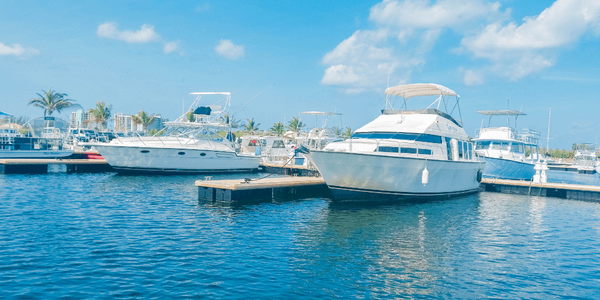 Dock Builder
Custom Dock Builds
Dock Accessories
Decades of Experience
Free Quotes
The convenience of owning a waterfront home are only enhanced with one of Hollywood Marine Construction's custom boat docks. The docks that HMC builds stand out from the crowd since each one is handcrafted and designed just for you. From the smallest of details on, we can make your custom dock dreams come true. We offer many different models for inspiration, but everyone of our docks are custom-built to your specifications. We work within your budget to provide you with something outstanding and unique.
Docks aren't just for aesthetic purposes; they also offer a safe place to be near the water and a place to store your water devices, such as boats, kayaks, jet skis, and all sorts of other water sport equipment. They may be really useful if you decide to take your boat for a spin. Instead of driving miles to fetch it out of a storage unit or a yard somewhere, and then driving to the marina and launching the boat, simply stroll out to your yard, jump in your watercraft, and take off. That is really true convenience! Call HMC for one of the best Hollywood dock builders around!
Dock Upgrades
We offer a wide array of dock accessories and upgrades, including:
Rope, wood and cable railing systems
Dock ladders
Fish cleaning stations
Cleats
Custom benches, storage boxes and lockers
Pile wraps and caps
Lighting
Dock Building Process
Our expert marine dock designers, building contractors, and construction team monitor and follow through on every aspect of the dock building process, from the initial appointment to the final inspection. All local, county, state, and federal building laws, as well as other contractor and construction regulations and rules, such as insurance, licensing, safety, and bonding, are strictly followed.
Work does not begin until all essential building permissions are obtained, the specifications of the marine dock construction are written down and agreed upon by the customer, and a project timetable is established. Your deck building project is completed on time, under budget, and in conformity with building codes and other regulations. Our completed personal watercraft docks, floating docks, and boat dock structures are beautiful, functional, easy to maintain, safe, and can resist the weather and marine conditions of southeastern Florida.
Our distinctive dock designs are both functional and distinctive, and they are tailored to the specific requirements of each customer. One of the most critical aspects of constructing a marine dock is locating the pilings correctly. This is what sets HMC apart from other maritime contractors. When constructing a dock, the site must be surveyed to ensure that all significant aspects affecting piling placement are considered. To guarantee proper embedment, Hollywood Marine Construction lays your pilings utilizing an air hammer driving technique.